Designer: Julie Vino
From simple elegance to modern and edgy, a sweet-heart neckline is more versatile than you probably realise. Whether you're after a plain and modern gown or a touch of regality, we have found the perfect options for you. One of the biggest fear's brides have when opting for a strapless design is whether their bust will be supported or not. A gown without straps can often pose a challenge for brides with a bigger bust. Similarly, to wearing a strapless bra, it's pivotal that you get the correct size, shape and support in order for your dress to sit nicely on your body. So, you're probably wondering which strapless design is the right one for you? From modern square cut, to traditional sweet-heart, we cover all the different types of strapless bridal gowns and how to pull them off no matter what size you are. With a custom couture wedding dress, you don't need to worry about hoisting up your gown, gaping necklines and poorly fitted skirts. One of the most important elements of a strapless gown is the in-built corset. A well-constructed corset will ensure that your strapless gown supports you throughout the long day ahead. So, without further-ado, let's discover which strapless neckline is the perfect one for you!
1. OFF THE SHOULDER STRAPLESS
Designer: Lili Hod
A strapless gown is often known for drawing more attention to your upper body and is a great way to accentuate your collarbones and add a romantic and sexy touch to your bridal look. However, if you don't feel comfortable showing off too much skin and would prefer to keep your gown a little more modest, then an off-the shoulder strapless could be the perfect wedding dress for you. The off-the-shoulder feature is a great way to add extra coverage to your arms, which is particularly great for brides that are a little conscious of their upper body. The off-the shoulder look is extremely contemporary and trendy which is perfect for any bride wanting to achieve a modern look that will last the test of time. This gorgeous feature can come in various designs and lengths, depending on your personal preference. Lengthen the width of your off-the-shoulder band for added coverage and to achieve a slightly more classical look. This could be a great idea for brides getting married during the cooler seasons. A heavier crepe or neoprene fabric has the perfect weight and structure to give you extra warmth and a luxurious drape and fall. For brides getting married during the warmer weather a delicate and narrow band fitted to your arm could be the perfect addition to complete your very contemporary and edgy bridal gown.
2. THE TWO-PIECE STRAPLESS OUTFIT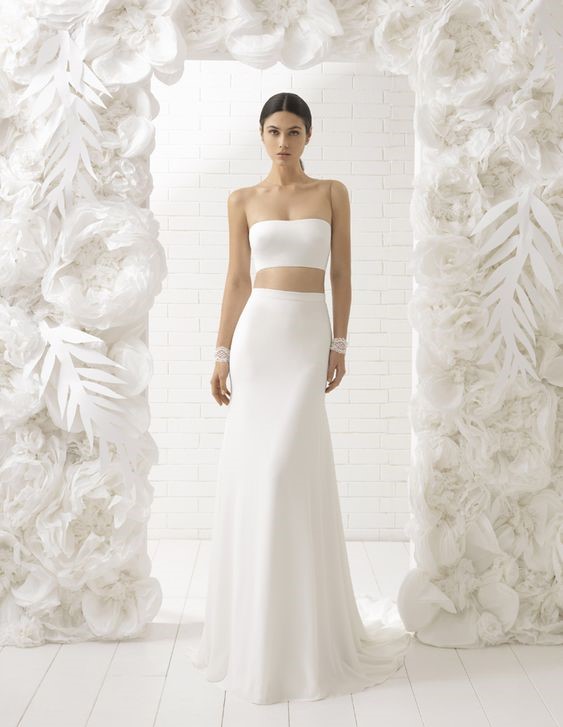 Designer: Rosa Clara
With many bridal stores in Armadale stocking only the traditional ball-gown dress shapes, it can often be difficult to find something a little unique and one-off. With a custom two-piece gown, you'll have all your guests in awe over your bridal look. For brides with a smaller bust, this is the perfect strapless style for you. Whether you're after something modern and fresh or unique and special, you can't go wrong with a two-piece gown. For brides getting married during a beach or garden ceremony, a strapless crop top is a great way to add a casual and relaxed touch to your bridal look. Consider opting for a beautiful bridal fabric such as a silk satin for a gorgeous sheen and shine or a textured crepe for a modern and matte touch. A stretch fabric with no seams can make your bridal top look even more casual so consider opting for a fitted top with boning, fusing and some elegant princess seams. Have fun playing around with the length of your top and remember that with custom-made you can always adjust the fit and design according to your figure. To turn your comfortable bandeau style top into a unique bridal addition, consider adding a touch of lace or a beautiful trimming to finish it off. These small intricate details can make such a massive difference to the overall appearance of your bridal gown.
3. DARING PLUNGING V STRAPLESS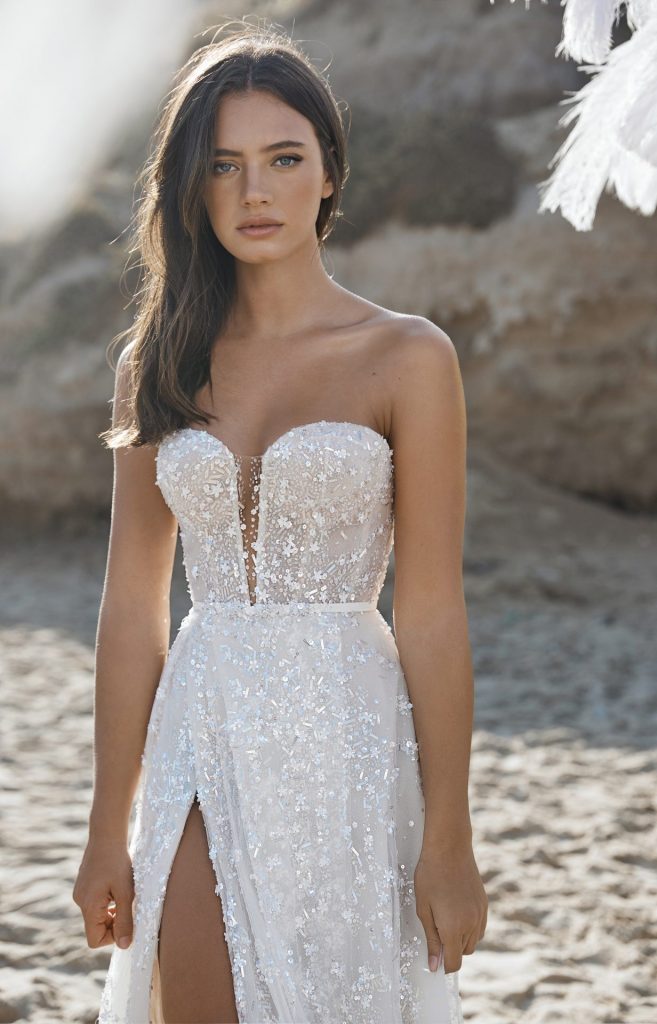 Designer: Lee Petra Grebenau
Finding a gown to support you can be a massive challenge, especially if you have a bigger bust. So, for brides with a curvier figure or a fuller chest, consider opting for a plunging V-neckline. The V-neckline is an extremely flattering style that won't increase the size of your bust and will allow you to showcase a little bit of cleavage whilst still remaining modest. When opting for a plunging neckline it's important to ensure that the triangular cut out is supported by a tulle mesh. The tulle mesh will add a little bit of extra support and structure to your bodice and will ensure that the plunged cut-out doesn't stretch or manipulate in shape. Double layering the tulle in the centre can also add a little extra support for brides with a much fuller chest. When opting for this style it's always a good idea to avoid a super low back design. Remember that the front of your gown is often what will be seen the most, especially in photographs, so a beautiful statement neckline with a plunging cut-out could be the perfect way to complete your wedding gown.
4. ELEGANT SWEET-HEART STRAPLESS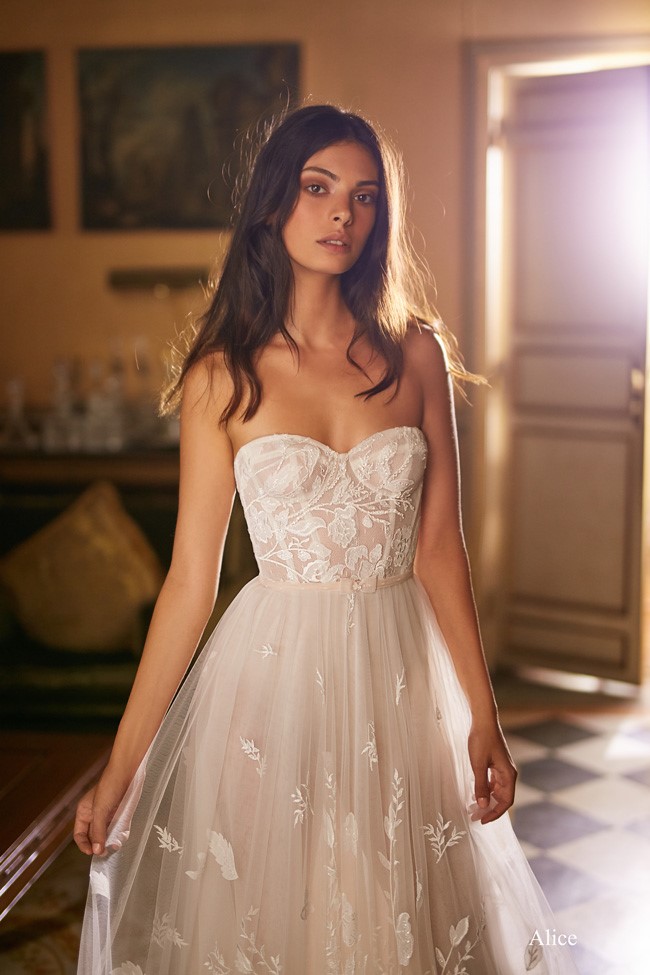 Designer: Gali Karten
Delicate and feminine, the sweet-heart neckline is an absolute crowd favourite and we can definitely see why. This classic neckline suits almost every body shape and chest size. From its subtle curved edges that frame your bust, to the boning and design lines that shape and define your bodice, you can't look past this elegant option. A sweet-heart design is particularly great for brides with a medium to larger bust, however it can also be a great way to add the illusion of a fuller chest for brides that tend to have a smaller bust size. It's also important to note that bra cups and underwire is a great way to add additional support to your bust and structure into your top. A sweet-heart strapless gown can come in various designs depending on how much of a statement you want to achieve with your neckline. For a soft and flowy skirt, it looks particularly elegant to opt for a soft and subtle curved neckline. To add a touch of interest into your top, consider a sharp sweet-heart neckline. This design is similar to a love-heart shape and can look particularly nice on bride with a larger bust.
5. DETACHABLE ADDITION
Designer: Lee Petra Grebenau
Strapless gowns aren't for everyone but don't fear fellow brides, there is always a way to modernise and customise your custom bridal gown. If you're after a little more coverage or wanting to add a contemporary twist to this classic look, then consider a detachable tulle band. This delicate and feminine feature can be made from various sheer materials. For a soft and glossy finish, consider utilising a pure silk chiffon. This fabric will achieve a gorgeous traditional touch to your gown. A fine hail spotted tulle is also a great way to add a vintage twist to your custom bridal dress. For brides wanting a more contemporary look, consider utilising a beautiful delicate fine tulle or silk organza for extra volume and structure. This simple feature is a super easy and affordable way to completely change your bridal look without having to buy a second dress or opt for fancy overskirts and bridal capes. This soft off-the-shoulder drapery can be made detachable or attached directly onto your gown, depending on your personal preference.
6. THE CORSET STATEMENT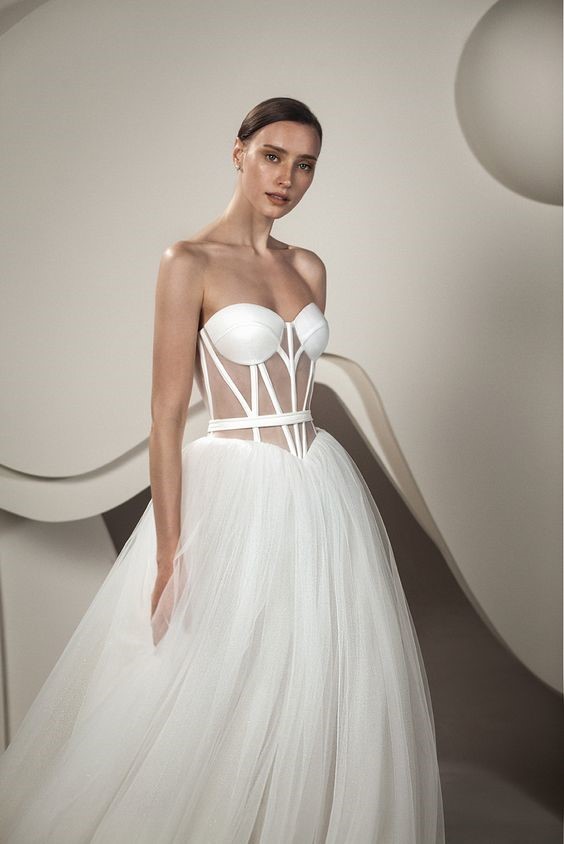 Designer: Alon Livne White
A bridal couture gown wouldn't quite be complete without a stunning corset so why hide it when you can showcase all that intricate detail? This gorgeous gown by Alon Livne White showcases a sheer corset with a unique boning placement that is designed to add shape and define your figure. A corseted bodice is a great way to add a touch of uniqueness and interest into your strapless gown. It looks particularly beautiful on an hour glass figure as it accentuates and flatters your curves and figure. It can also be a great way to add some shape into a bride that has a rectangular or round shape torso. For brides after a custom couture wedding dress without lace or beading, consider opting for this unique boning feature to add a statement and wow factor to your look. If you're not so keen on the sheer and transparent design you can always utilise a solid material such as a silk satin instead of a sheer tulle. The boning and tracking can be applied on top of a solid fabric and can even look lovely when done in a slightly different colour to the base. It adds a subtle contrast and will further highlight and accentuate those design lines.
7. DELICATE SCALLOP LACE STRAPLESS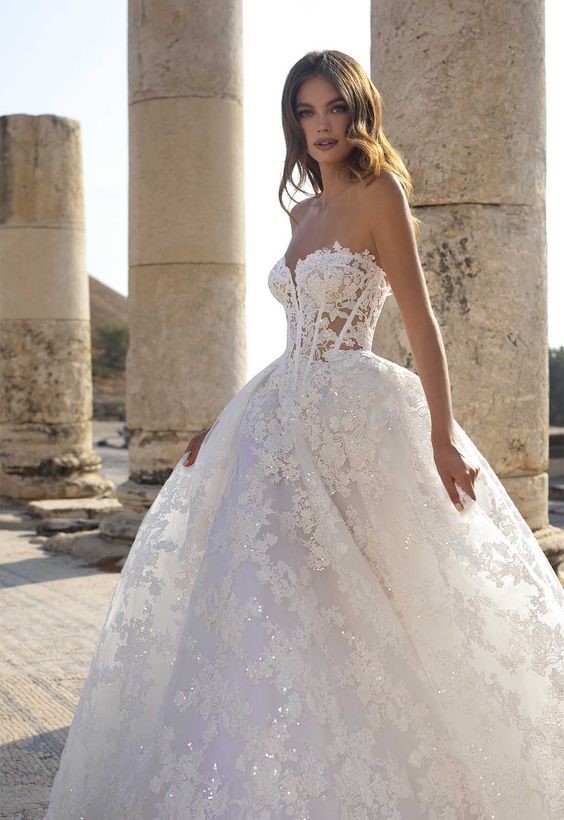 Designer: Pnina Tornai
A strapless gown can often look too plain or simplistic without a sleeve addition, however there are so many gorgeous ways that you can add a touch of formality and regality into your strapless gown. For brides opting for a custom lace wedding dress, consider utilising a beautiful lace scallop edging along your neckline. The scallop edging often showcases an organic pattern with intricate leaves and detailed floral designs. It's a beautiful way to finish off your strapless neckline and add a little statement and attention into your top. This looks especially beautiful for brides getting married during a formal ceremony or an outdoor garden venue. Armadale bridal stores often sell laces by the metre or narrow lace trimmings which are designed for necklines, hemlines and trains. Another great option is to use a delicate beaded trim or a motif which can be hand sewn and appliqued onto your wedding dress depending on how much or how little you prefer. When utilising a scallop edging on your strapless gown, it's always a good idea to transition the lace slightly onto your bodice to achieve a soft and feminine finish.
8. MODERN SQUARE CUT STRAPLESS
Designer: Jenny Yoo
If you're looking for modern and trendy, look no further than a straight square-cut neckline. This stunning design has become increasingly popular over the past year with many brides straying away from the traditional sweet-heart and opting for a clean contemporary finish. The square-cut design is perfect for brides with a medium to fuller chest. Whilst a bride with a smaller bust can often look flat in a straight neckline, there are some great ways to add a touch of definition and interest into your design. Consider adding a band or frill across the neckline for a little uniqueness and added fullness into the top. Padded bra cups can also be a great way to add a touch of coverage and fullness to your bust. For brides with a fuller chest, consider a tight fitted bodice with princess seams and fusing. This simple and elegant design is the perfect way to add shape and define your figure without drawing more attention to your chest. When opting for this style it's important to ensure that you have all the correct in-built support. The key to the perfect fit is to add in additional seams! This will achieve a nicely tailored and bespoke finish to your custom wedding gown.
How to Wear A Strapless Wedding Dress?
Corset
Corsets are a great way to allow for bridal gown adjustments. Following waist stays, which look like bra straps at the back, corsets are another option.
Right Undergarments
A good bra or Spanx will ensure your bust doesn't get exposed unwillingly. Make sure it fits comfortably, and hugs every curve, so it doesn't leave a gap. For your wedding, opt for a strapless bra with underwire and a non-slip grip at the back.
Boning
If you've already got cups sewn to your dress, ask if your seamstress or bridal designer can add boning to the dress, if it already doesn't come with it. Boning will help secure the shape of the bust, and prevent anything from slipping off, even if it may seem a little loose at the chest area.
ARE YOU ON THE HUNT FOR THE PERFECT FABRIC AND YOU WANT TO FIND OUT MORE ABOUT HOW WE CAN WORK TOGETHER TO CREATE YOUR VERY OWN CUSTOM BRIDAL GOWN? Contact us today, for your free in-store design consultation and over the phone styling advice service from our lovely team of bridal designers who have been creating dream wedding dresses in Melbourne for the past 19 years!