Mother of the Bride and Groom is almost considered to be a host at their children's wedding, so you do have to stand out from all other guests, look that extra bit special without overshadowing the bride and groom. After many years of working as a Designer in the bridal industry, I have found it more challenging to design for mothers, than for a bride. Well, why is that? There are many factors to consider when a mother of the bride is now having to figure out what they should wear to their children's special day. These factors are for example, what colour to wear, dress code, the other mother's outfit, the bride's opinion etc. Here are a few simple guidelines to follow and consider when starting your journey to find the perfect outfit:
1.Selecting the right colour
Talk to the bride and the other mother about what colours they are considering for the wedding. Many mums always say I have no idea what colour to pick due to the fact that the bride has not selected her bridesmaid dresses. Mothers of the groom also feel obliged to wait until the mother of the bride has selected her outfit to avoid selecting something that is too similar. Just simply communicate with the bride, so you can plan ahead and know what colours you can select from and what to avoid. If the bride is not too fussy, then you have the freedom to select what you love. If she is particular on what colours to select from, it is courteous to respect her choice.
Image: Bride Rebecca Falsone and Mum, photo by Shot from the Heart
 2.Keeping in line with traditions
Different cultures have their own set of rules, so this may not apply to everyone. Traditionally the mothers of the bridal couple should not wear black or any shade close to White or Ivory. This, in fact, is offensive and not a good start to your relationship with the bride. So, if this rule does apply to you, stay away from black and white shades.
Bride Daniella and Mom, both wearing custom made d'Italia Couture
 3.Selecting the perfect style
Golden rule is staying true to your own sense of style. After considering the bride's opinion and respectfully following appropriate traditions, stay true to your personality when choosing your outfit. If you love vibrant colours, then don't be afraid to experiment with this in your chosen attire. Maybe a pop of colour in the print or beading. If your more of a neutral tone girl, then stick with more earthy colours suitable to your complexion. Do not feel obliged to follow direct instructions the bride or others tell you is appropriate. If there is a colour or style you love more, then do not feel pressured to wear something you are not comfortable in. There are so many colours and shades in a rainbow to choose from.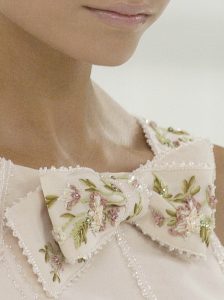 Intricate detail of Collar and Hemline. Smallest touch of detail can make the biggest difference!
                       Left Image Via Pinterest, Lanvin Couture
Right Image via Pinterest, Giambattista Valli 2017 Fall Collection.
4.Consider how much to spend
Budget well for your outfit. Do not feel guilty to splurge and do not opt for a cheap outfit. Remember you need to stand out from the other guests and people will have their eye on you. This is your time to shine as the beautiful proud mother of your son or daughter's wedding. You are giving them away and celebrating a major event in their life. So, if you are not a big spender, then this is the occasion to spend that extra hundred dollars on a quality gown or suit. People will notice a poorly made or mass-produced outfit.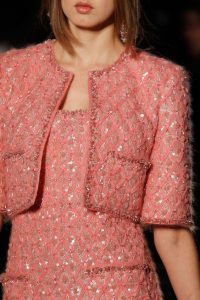 Chanel Couture Collection, A custom made suit will be an investment for life and will make and create a statement!
5.Abiding to the dress code
Find out early the dress code and theme for the wedding. Is it a black-tie, beach theme or country garden wedding? This would make the research a lot easier for you. Knowing early on what to look for in terms of style and colour for your body type. You do want to abide by the dress code the couple has for the wedding. If it is a casual laid-back wedding, then showing up wearing a formal gown with a train would be disastrous.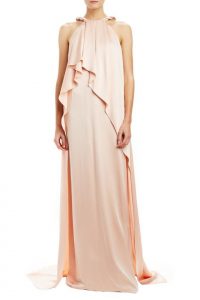 Left Image: Designer Monique Lhuillier Draped Halter gown perfect for a black-tie function,
Right Image: Dolce & Gabbana Lilly Print Mazi Dress suitable for a garden or beach wedding.
6.Consider custom-making/tailoring
 If a designer gown is out of your price range, then I highly suggest considering custom making. As the mother of the bride/groom, you do not want to wear a mass-produced commercial dress, that any guest may wear. To avoid this, ideally, stay away from popular department stores. Custom making will give you the freedom to have a garment designed and made to fit your body proportions perfectly. You can also select your own colours and fabrics. It will be an investment for life. If you get a tailor-made gown or suit, then you will get more wear out of it too.
Image: D'Italia Couture Sketch by D'Italia Designer
  7.Allowing enough time
 Plan ahead of time. Start researching at least one year ahead. The last thing you want is to be stressing about your outfit leading up to the wedding. You will surely have a lot on your plate to plan for the big day. Having your outfit and accessories sorted early on is one less task on your checklist to worry about. If you are getting a dress custom made, then talk and book in with your dressmaker early on. If you are ordering a made to measure dress, then again order much early to ensure you have the perfect fit.
Image: Bride Rebecca Falsone and Mother of the Bride and Bridesmaid, photo by Shot from the Heart
I hope these points I have covered will help you with the search for your perfect outfit. Do not let the decision to find or design the perfect outfit for yourself scare you. If you keep in mind these few points, then It is really a lot of fun, and a truthful secret is I love designing for mothers over brides. I did say it is more challenging, but whether you are a young mum or mature, regardless of your age, mothers are always confident and sure of themselves. In this decade no mother wants to look like the typical mother of the bride/groom or what I say as "the Queen Mother attire". There are so many options out there more than ever, so let the hunt for this perfect outfit begin!
ARE YOU ON THE HUNT FOR THE PERFECT FABRIC AND YOU WANT TO FIND OUT MORE ABOUT HOW WE CAN WORK TOGETHER TO CREATE YOUR VERY OWN CUSTOM GOWN? Contact us today, for your free in-store design consultation and our over the phone styling advice service from our lovely team of designers!