Source:littledreamsphotos
Your big day requires so much planning in advance, and what's one of the most challenging yet most exciting parts of it all? The dress, of course! As soon as you step out into the aisle on your special day, all eyes will be on you, the beautiful bride, and your dress – the one everyone's been waiting to see since they got their invitation. If you're looking for some non-traditional inspiration that extends further than the classic white gown (which is still gorgeous, by the way), here are ten wedding dresses we love as a bridal shop in Melbourne, and think you will too.
1. Modern Boho Wedding Gown with Long Sleeves
Bohemian style weddings are becoming a strong choice for many, and it's always good to have your personal style and wedding theme reflected in and carried through your wedding dress, especially as it's one of the main parts of the day – it's basically like another piece of decoration when you think about it! This boho wedding gown has a slightly modern touch, featuring a sequin adorned pattern carried through the entire dress, contrasting nicely with the loose, more relaxed fit. The low back and cheeky neckline are two details that complete the dress and it looks great in white as well as beige.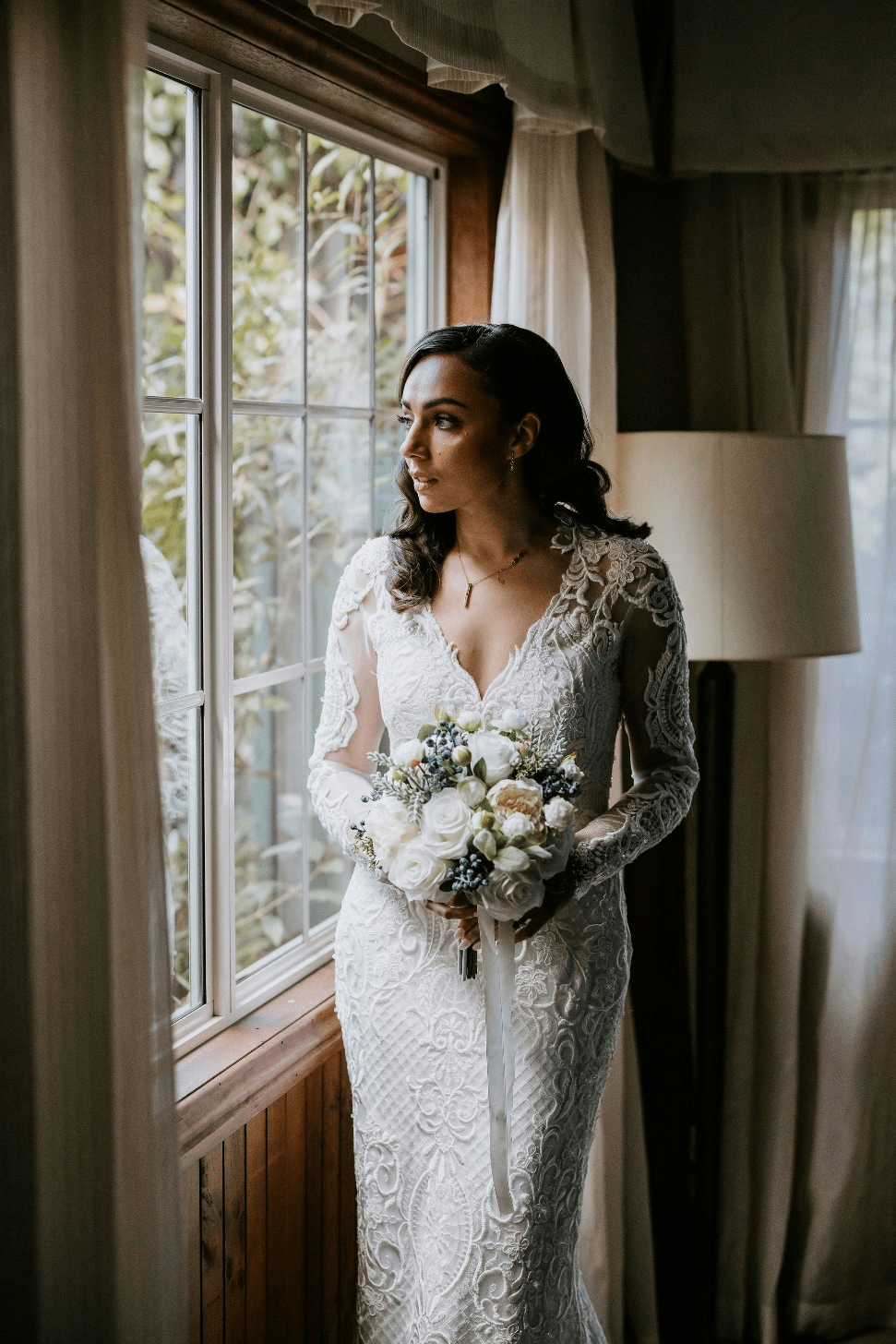 Source: dan brannan photography
2. Gold Bridal Gown
Sparkle is a girl's best fried (after diamonds, of course), so what better place to put them than on your wedding dress itself? This dress is definitely option if sparkles are the direction you're leaning towards, as it's coated in them all over. The dress shape itself is quite simple, but that allows the sparkles to stand out even more, and the open back framed by the two thin straps is a gorgeous finishing touch. d'Italia's dresses are handmade in our Bridal Shop in Melbourne, so you can expect the best quality.
3. Pink Tulle Skirt
If white isn't your go-to colour, perhaps this pink dress suits your style a little better. Utilising the powers of an eye-catching yet not overpowering colour like this pink is a bold move and will ensure that your ready to wear bridal dress takes centre stage without looking out of place. And you can feel like a princess in the bouncy tulle skirt that surrounds you beneath the sparkly bodice.
4. Flower Wedding Dress in Grey
There's no place better than a cute, countryside wedding full of floral decorations and inspired by nature for this wedding dress to fit in, and it's dreamy floral pattern is something your guests definitely won't miss. It's a fun, light-hearted design and you'll find flowers everywhere, even along the sleeves. Just imagine holding a colourful bouquet of matching-coloured flowers as the flecks of pigment in your dress to really bring out the bright hues that adorn this piece.
Source:Pintrest
5. A Black Bridal Dress
Black dresses have become increasingly popular recently, as people have begun to see the beauty and mystery that comes with wearing non-traditional dress styles, and black dresses are the perfect way to add some sexiness and flair to your wedding day. Whether you have darker coloured wedding decoration all around, or light decorations during the ceremony, a black dress will complement either in a unique way. Plus, the black lace looks much more intricate than it's white counterpart, which makes it even more eye-catching.
Source:Pintrest
6. Mini Wedding Gown with Puff Sleeves
For a modern take on the more traditional white wedding dress, this puff sleeved wedding gown is the one for you, with a simplistic yet also bold design all at once, with a contrast that installs balance and pleases the eye.The mini dress style feels less formal than a long maxi dress, like your traditional wedding gown, but the puff sleeves, which are a very trendy addition to occasion wear currently, add an additional touch of elegance and formality whilst also making a statement at the same time.
Source:Pintrest
7. Long Satin Dress in Emerald
Emerald is a striking colour that suits all skin tones which is one of the many gifts that come with it, and it's one of the most suitable colours for those with fair skin to wear – so if that sounds like you, this may be one of your best options! The length in the skirt makes you seem taller and your legs seem longer, which is helped by the straight fit of the satin material. The shine and smoothness look sleek and classic, and the split side gives you space to show of a stunning pair of shoes, too.
Source:Pintrest
8. Strapless Convertible Wedding Dress with Tulle Skirt
If you've ever seen one of those convertible dresses on the television or in the media, and wanted one for yourself, today's your lucky day! This ready to wear wedding dress by d'Italia comes in two parts: a dress and a skirt. Alone, the dress is a form fitting lace textured bodycon mini dress with a flattering neckline that accentuates your chest and complements your curves. At certain times during the day, you can choose to add the tulle skirt for the full bridal gown effect and a gentle, floaty bounce around you.
Source:littledreamsphotos
9. Bridal Jumpsuits
A bridal gown isn't everyone's cup of tea and there are plenty of skirt free options available for your wedding day, such as suits and shorts, or even this jumpsuit. The design is carefully crafted to mimic the appearance of a bridal gown, making it a classy choice without the fuss of a skirt. Being a jumpsuit, it holds a certain authoritative flair that you won't find in a dress, and allows you to spread your girl boss vibes, even on your wedding day. To elevate the look even further, add a pair of stilettos and you'll be left with a fierce and fiery outfit.
10. Black Long Tulle Skirt with Backless Top
Last but most certainly not least, this is another black gown but with a very different design the the one we previously saw, featuring an open back framed with a black lace detail either side and finished with a tie and the bottom before revealing a dreamy long black train that'll looking stunning as you float down the aisle. It's the perfect dress for a gothic style wedding, and would look beautiful with some dark roses.
Do you have a wedding coming up? What are you planning to wear? If you need a little help deciding on which dresses might be best for you, request your appointment here today for your free in-store design consultation and over the phone styling advice service from one of the best Wedding Dress Stores in Melbourne who have been creating dream wedding dresses for the past 19 years! Come visit our custom-made wedding dress store at d'Italia for any formal occasion.